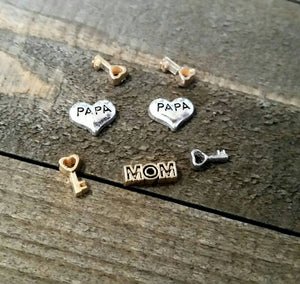 These super cute "floating" charms are great for use in a glass memory locket or as cabochons. The assorted set includes 3 gold tone heart keys, 1 silver tone heart key, 2 "papa" hearts, and 1 "MOM" piece.
You will receive 7 pieces.
**These pieces do not have holes. They are "floating" charms, for use in a locket, glass vial, cabochon, etc.
Material: alloy, enamel
Sizes: Assorted, approximately 6 to 7mm