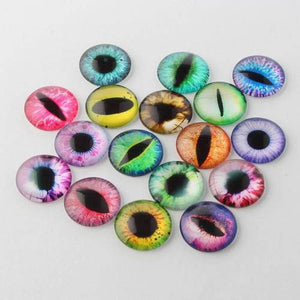 These awesome dragon eye cabochons are great for making jewelry, crafts, and more! They feature an assorted mix of styles and colors and are flat on the back for gluing to pendants, rings, and more.
You will receive 6 pieces.
**If you need specific colors, please view them in our store, sold as individuals.
-Assorted colors, chosen at random
- Glass
-Flat Back
-20mm
**We will always try to send you the largest assortment possible, but as our stock changes, duplicates and other styles not pictured may be sent. If you would like pairs, please add a note at checkout. If you have any questions as to what colors will be sent, please message us prior to purchasing. If you prefer certain styles, they may be purchased individually in our store.